Mostly, successful business persons make sure to follow latest and most important trends in their business fields. There are innovators in every business field setting the trends setters, and there are also people who recognize the trends and follow them. The rest of the people are those who neither create nor follow the trends. The same case is with the healthcare IT business, but the question is whether you want to be the leader or the follower.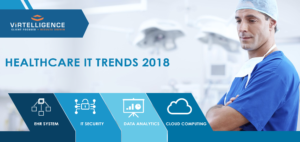 Following latest trends in healthcare IT can benefit the healthcare organizations in several ways such as: a) trends can help your business to make better predictions, b) trends let you what is happening now and what will be happening tomorrow in the business, c) recognizing and implementing the latest trends help you to become a leader rather than a follower, d) trend-following broadens your vision so you can come-up with improved business ideas, e) trends can also help you to have better business insights to avoid pitfalls and implement the right strategies and f) trends also tell what you need to improve your business to make it a success. Here are some important trends for healthcare organizations to follow in 2018:
Interoperability
Electronic health records (EHR) devices are now one of the most important necessities of any complex healthcare system. So, it is important that HER devices should be able to share information flawlessly. This is possible if your healthcare IT atmosphere is interoperable.  An interoperable EHR system ensures improved workflows and reduces vagueness, while it also enables data transfer between EHR systems and healthcare stakeholders. Eventually, interoperability enhances the healthcare distribution with the availability of right data at right time and to right people. To develop an interoperable healthcare IT atmosphere, four important aspects of EHR technology must be focused:
User-friendly applications interaction
Effective communication between systems
Processing and managing the information
Integration of other systems and applications with consumer devices
Big Data Analytics
Big data analytics is the future of every business field as it can examine huge volumes of data to discover unknown patterns, correlations, and insights. Now you can analyze your data and have quick answers from it with the help of today's technology. The capacity of working faster and staying responsive offers healthcare organizations a competitive advantage they might have before. That, consequently, directs to intelligent business moves, more competent and resourceful operations, improved profits and more satisfied customers. Besides that, big data analytics also benefit healthcare organizations with cost reduction features and helping them to make faster and better decisions with predictive analytics.
IT Security and Data Privacy
Healthcare organizations are digitizing their electronic health records (EHRs) to enhance their efficiency as well as improving patients' experience. Digital sharing of data offers great potential for doctors, clinicians and other medical professionals for quick and effective sending and receiving of contents. Though it is a great development in healthcare industry it also puts the patients' data and other sensitive information in harm's way by exposing them to cyber-attacks such data breaching and ransomware etc. Therefore, healthcare organizations hold it imperative to have strong defense strategies for their IT security and data privacy protection. HIPAA Security Rules specifically emphasize the healthcare organizations to have physical, administrative and technical defense strategies to secure their EHRs. Some of the important measures to protect EHR systems consist of:
Access controls such as creating password and PIN numbers for a limited access to your information.
Encryption of your stored data is also an effective step because without a special key to decrypt it no one will be able to read your information.
Having an audit trail makes you the owner of your data as you will be able to see who accessed your information, when and what changes were incorporated.
Cloud Computing
Healthcare industry has been facing increased pressure to offer more within the handful of resources whether it's for patients, providers or controlling authorities. So, healthcare organizations are increasingly adopting "cloud" which let them have on-demand access to shared computing resources. Cloud computing offers several benefits, including lower costs, improved responsiveness and increased efficiency letting them achieve their business goals. Key benefits cloud computing offer to healthcare organizations are:
Faster and easier access to electronic records
Updated and organized collaboration between healthcare professionals and patients
Reduced costs with minimized in-house storage requirements
Easy access to high-powered data analytics including medical research, trend-spotting and referral generation
Enables data sharing between complex systems and also healthcare organizations
With high-powered data solutions, cloud computing enables advanced clinical research such as developing new drugs or finding interesting possibilities in DNA sequencing.
Cloud computing also enables telemedicine that let the physicians provide health care to patients from a distance.
Virtelligence consultants can step in and offer their expertise to help you with different aspects of healthcare IT. For more information and better results contact us today!
https://www.virtelligence.com/services/information-technology-consulting.html