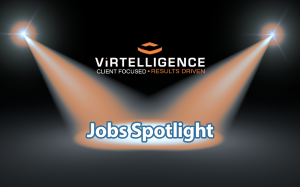 Healthcare IT ConsultingHappy President's Day! If you have the day off, why not spend some time lining up your next project? Here are the healthcare IT consulting opportunities we're highlighting this week. To apply for any of these jobs, go here or email"mailto:kschulte@virtelligence.com">kschulte@virtelligence.com
Epic Optime Application Coordinator
Location: Northwest United States
Industry: Healthcare IT Consulting
Job Description: Apply Here.
The OpTime Coordinator is responsible for a variety of roles and responsibilities.  Principle roles and responsibilities include:
Apply an in-depth understanding of the Epic application to perform design, build, and testing activity.
Identify issues and work to bring to resolution.
Troubleshoot questions and problems from end users and the project team.
Prioritize enhancement and system change requests.
Participate with business owners and end users in the design process to translate operational requirements into future-state processes and application configurations. Perform in-depth analyses of workflows, conduct data collection and other analysis related to the system.
Perform system build, testing, and ongoing optimization of the configuration.
Conduct regular communication with Epic's installation team, and serve as a bridge between end users and vendor implementation staff to tailor the system to the organization.
Coordinate with Epic and technical personnel to troubleshoot, maintain, and implement complex and enterprise-wide infrastructure technologies and application-based installations while adhering to Client's policies.
Apply Epic experience and training to team tasks and deliverables.
Develop and document internal procedures to use in conjunction with the Epic application.
Business Intelligence (BI) ConsultantLocation: East Coast
Industry: Healthcare IT Consulting
Job Description: Apply Here.
Responsible for the strategic design and maintenance of Business Intelligence applications. It is crucial that this consultant can identify, research and resolve technical problems. A vital part of this role is to build and ensure that all Business Intelligence applications meet our Client's requirements.Qualifications:
Bachelor's Degree or 10 years of business intelligence experience
10+ years progressive experience working with multiple Business Intelligence tool sets (Ex. Tableau, SAP, etc.), building of dashboards, advanced reports and business knowledge of data warehousing, data marts, data shaping for  Business Intelligence reporting
Infor/Lawson Experts
Location: East Coast
Industry: IT Consulting
Job Description: Apply Here.
We have quite a few opportunities for experienced Infor/Lawson consultants. Many of these positions are full-time, so it's a great opportunity for you to land your dream job on the East Coast! If you are an expert Infor or Lawson consultant, reach out to us to get more information about our many open positions.Other NeedsIf none of the above consulting jobs fit your skillset, we're also looking for the following positions: Any certified Epic consultant, a Senior Developer, and a Desktop Support Analyst, as well as several Cerner consultants.
To apply to any of these positions, click here. Remember to subscribe to the blog to stay up-to-date on our exciting opportunities. To find out more information about any of these opportunities, leave a reply on this blog post or send an email to kschulte@virtelligence.com. Have a great day! 
Virtelligence a National Healthcare IT consulting firm that offers Healthcare IT consulting services in the US and is looking for a Regional Sales Executive. Virtelligence has been awarded INC5000 – INC Magazine's fastest growing companies , "Great Places to Work" by Minneapolis – St. Paul Business Journal and HCI-100, Top 100 Healthcare IT Companies in USA in by Healthcare Informatics Magazine. Recognized nationwide for generating possibilities and creating solutions, Virtelligence welcomes you to become part of our growing team.