Healthcare IT ConsultingHappy Monday! Here are the healthcare IT consulting opportunities we're highlighting this week. To apply for any of these jobs, go here or email kschulte@virtelligence.com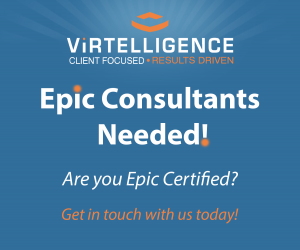 Epic Program Manager
Location: Minnesota
Industry: Healthcare IT Consulting
Job Description: Apply Here.
Our client will be implementing a single Epic Electronic Health Record and Revenue Cycle system in multiple locations in the US. This system will replace upwards of 90+ legacy systems. The person selected will work closely with the Director, Continuum of Care and lead the coordination of activities among all Clinical application teams for Charge Testing and Parallel Revenue Cycle Testing (PRCT) (estimated 60%) as well as to assist with other areas of leadership for the clinical applications. This includes advising teams on the review and decisions for cross-team requests from legacy system changes and representing the clinical applications in governance meetings and go-live preparations to support individual Project Managers and Team Leaders as able. We are looking for a Program Manager or Director to fill the role. Requirements
Experience with EPIC or EMR systems
Ability to coach, counsel and provide general supervision and performance feedback to others,
facilitate meetings and lead decision making as demonstrated by prior leadership experience.
Two years program management including mentoring, employee development, and training.
Proficient with Microsoft Office applications (Word, Excel, Powerpoint) and ability to work in a
Windows environment.
Demonstrated ability to identify opportunities for quality/process improvement and implement rapid cycle improvements.
Experience facilitating and coordinating activities with teams across multiple disciplines
SharePoint Administrator (Sr.)Location: MidwestIndustry: Healthcare IT ConsultingJob Description: Apply Here.The Senior SharePoint Administrator provides technical support for the organization's SharePoint and other Web technologies including assessment, configuration, implementation, and maintenance of existing sites and new capabilities. To effectively and efficiently meet the organization's business objectives, the SharePoint Administrator must be proficient in gathering business requirement(s), design, develop, test, maintain and optimize the use of SharePoint sites and software applications integrated with SharePoint. Core Job Responsibilities• Develop, configure and support SharePoint environments hosted on Microsoft Office 365 which include Intranet and Team Collaboration sites. • Develop, configure, and maintain document libraries, enterprise lists, and site collections. • Manage end-user accounts, permission and access rights in accordance with best-practices regarding privacy and security. • Manage web applications from an enterprise perspective to coordinate and maintain these applications in regards to how they relate to each other and outside entities. • Provide recommendations on how SharePoint Out-Of-The-Box features can be leveraged to increase collaboration and communication between employees. • Promote user adoption, enforce ownership of applications, content, and sites with stakeholders, collaborate with IS team members, and test backups. • Develop training material and provide training to users with varying levels of skills. • Provide technical direction with development of SharePoint roadmap. • Assist with the Public Internet site hosted on Episerver. • Maintain timely and appropriate written communications/documentation. • Reviews, monitors, and distributes usage reports. • Troubleshoot functional and technical incidents occurring within SharePoint. • Manage site quotas and file size limits. Requirements/Preferences• Bachelor's degree in Computer Science/Information Systems, or Business Administration. • 5+ years of direct work experience developing websites and/or applications for SharePoint eco system. • 5+ years using .NET technologies with VB.net, PowerShell, SQL, C+ and/or ASP.NET preferred. • 3+ years of experience in using SharePoint Designer and deploying solutions, and using Microsoft InfoPath to develop and deploy digital forms. • 3+ years of experience with User Interface Development (i.e. Web Forms, JavaScript, DHTML/HTML, XML/XSLT) and business logic development. • 2+ years of experience working with IIS, Active Directory, and Microsoft Office 365. Competencies/Behaviors• Problem solving, critical analysis • Customer service orientation, approachable. • Demonstrates adaptability, flexibility, accountability • Highly collaborative; team player. • Effective communicator; listening, written, oral and presentation skills required. • Independent worker, capable of establishing and managing priorities. Ability to manage multiple competing, complex tasks.Senior Technical WriterLocation: West CoastIndustry: IT ConsultingJob Description: Apply Here.Our client is seeking a Senior Technical Writer for an approximately 11-month long project.  This position will be responsible for managing the information infrastructure and documentation content for the enterprise Strengthening the Foundation (eSTF) program.  They will work closely with the eSTF team to understand what technical documentation is required and may perform the following tasks:  Documentation related but not limited to Operational Run Books, Processes and Procedures, Data Flow Mapping, Disaster Recovery and Failover Testing, Application Structure, etc.
At least 10 years of experience in technical writing, specific to IT infrastructure environments.
BA/BS degree in Technical Communications or related field, or equivalent work experience.
Strong written and verbal communication skills.
Ability to work with cross-functional teams.
Other NeedsIf none of the above consulting jobs fit your skillset, we're also looking for the following positions: Any certified Epic consultant, a Service Desk Specialist, a System Integration Engineer (III), and an Informatics Analyst., as well as several Cerner consultants. To apply to any of these positions, click here. Remember to subscribe to the blog to stay up-to-date on our exciting opportunities. To find out more information about any of these opportunities, leave a reply on this blog post or send an email to kschulte@virtelligence.com. Have a great day!