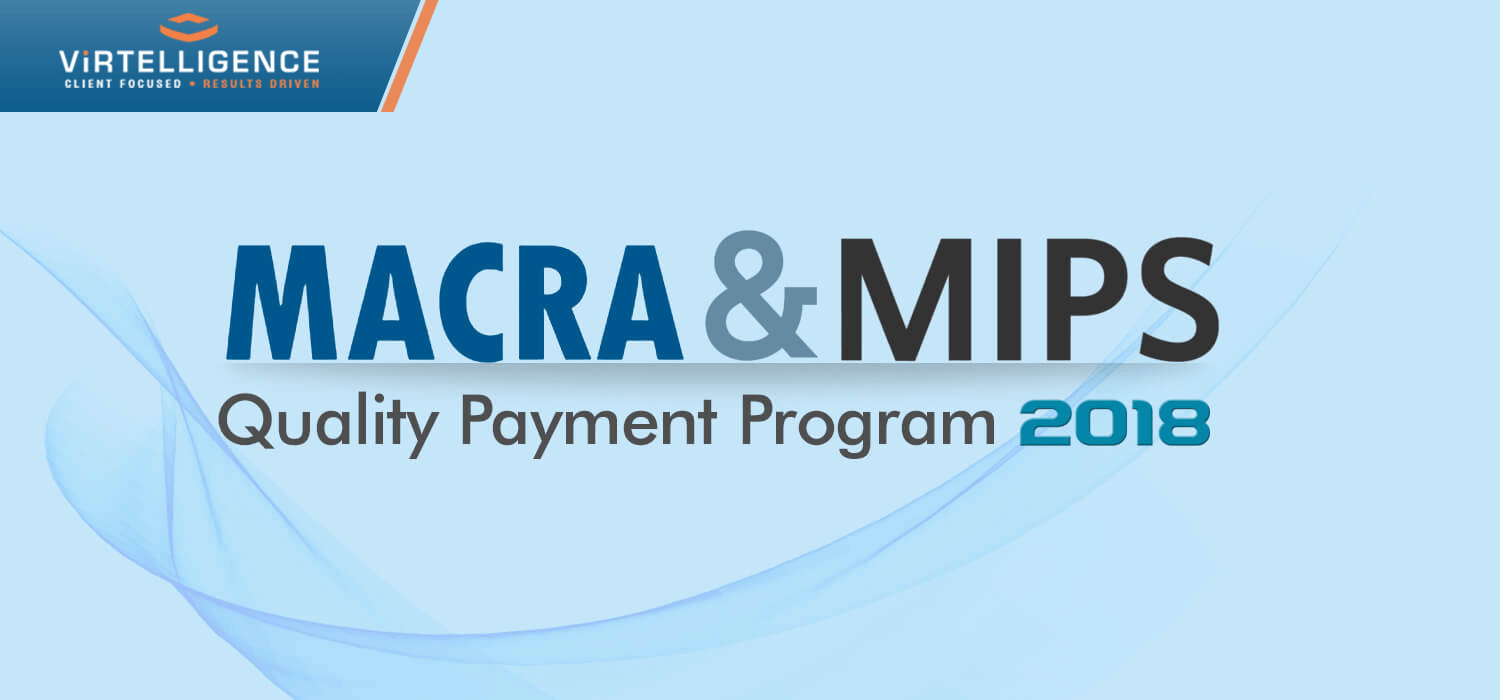 Under Sustainable Growth Rate (SGR) law the Centers for Medicare and Medicaid Services (CMS) used to offer increments in payments to healthcare providers for providing quality care. However, when practiced SGR had resulted in huge decreases in the Physician Fee Schedule. CMS, with the introduction of Medicare Access and CHIP Reauthorization Act of 2015 (MACRA), had discontinued SGR.
With MACRA, CMS had been able to give bonuses to Medicare clinicians for offering high-quality patient care. Simultaneously, it is also reducing the payments to those clinicians who are offering low-quality services. On January 1st, 2017; CMS was able to emphasize Medicare improvements by assisting the clinicians.  They introduced Quality Payment Programs (QPP) by offering two practice-based tracks to choose from:
Merit-Based Incentive Payment System (MIPS)
Advanced Alternative Payment Models (APM)
CMS, in the new 2018 QPP Final Rule, has delineated a variety of changes to its programs for value-based care. The question is whether the healthcare organizations and their EHR vendors are prepared for it? MIPS requirements are increasing day by day becoming a challenge for healthcare providers. Considering this, if you have the right technology to efficiently organize your MIPS data collection and submission, you got nothing to worry about.
Probably you might not have enough time to go through all the 1,653 pages of 2018 QPP Final Rule to check the updates, here's an overview for you:
Payment Adjustment: In 2017, providers could have earned up to 4% adjustment either in positive or negative based on their performance, this year CMS is going to raise the stakes even if it's by 1% i.e. from 4% to 5%.
Low-volume Threshold Rose: In comparison to the 2017 MIPS threshold of ≤$30,000 in Part B allowed charges or ≤100 Part B beneficiaries, healthcare providers in 2018 with ≤$90,000 in charges or ≤200 beneficiaries will not be subject to MIPS.
Performance Threshold Goes Up to 15: In 2017, it was just 3 points of MIPS Composite Performance Score (CPS), i.e. by submitting one Improved Activity (IA), one Quality Measure or all Advancing Care Information (ACI) base measure for providers to avoid the negative payment adjustment in 2019. However, in 2018 they'll be needing 15 points or more to evade the negative payment adjustment in 2020, simply by completing 4 IAs, 2-3 Quality measures or all ACI base measures, while the performance threshold for positive adjustment is still at 70 points.
Cost Category is affected: With 0% weight for Cost Category, MIPS in 2017 used to score the providers on three categories mainly: ACI, AI, and Quality. Now in 2018, MIPS has added 10% weight to the Cost Category based on Medicare Part B claim submissions.
Change in Category Weight: The Quality category was initially intended to remain at 60% in 2018. Nonetheless, the 2018 QPP Final Rule has introduced the Cost at 10% this year while decreasing Quality's weight to 50% to balance.
Introducing Virtual Groups Participation Option: Many of the small practices were worried for their capacity to be successful as an independent under MACRA. To lessen their concerns CMS has initiated a virtual group option allowing the eligible clinicians to gain from group reporting regardless of joining the group or selling their practice.
Hardship Exemptions Added: If any of the physicians are unable to meet the reporting requirements due to natural disasters or public health emergencies, CMS has put in exemptions for extreme and uncontrollable circumstances.
Small Practice Bonus Introduced: In an attempt to lessen the troubles and promote small practices, CMS involuntarily will be awarding a bonus point of up to 5 points to the qualifying practices with 15 or less eligible clinicians and minimum one performance category to submit data.
2014 CEHRT Acceptable with 2015 CEHRT as a Bonus: Initially, CMS had considered allowing the 2018 data submission only from 2015 Certified Electronic Health Record Technology (CEHRT). Alternatively, it has now allowed the ECs to continue using 2014 CEHRT, which is helpful for both providers and vendors. However, 10% bonus is offered to those providers who report to the ACI category with 2015 CEHRT.
New Exclusions for ePrescribing and HIE Established: CMS, in order to alleviate the apprehension regarding the complexity of meeting certain procedures including ePrescribing and health information exchange (HIE), has established new exclusions, allowing the ECs to apply for the exclusion from one or both of the measures, yet earning a base score.
How can Virtelligence help you?
MACRA emphasizes on improving patient care which our healthcare IT consultants value and understand how to improve it with technology.  For the past two decades, Virtelligence has been successfully working with several largest hospitals and health systems around the world. Our skilled EHR personnel are certified in every major EHR system and are always training to remain updated about best industry practices. Working under MACRA rules, whether your organization has to implement a new EHR system, optimize the existing one, or has to introduce a MACRA project; Virtelligence is here to help you at every step.
For more details on MACRA and MIPS, you can go to our previous articles by clicking here.