Healthcare IT News
New National Coordinator for Health IT
On Monday, we shared an in-depth article about Vindell Washington, the new National Coordinator for the ONC.
"This past Friday, Karen DeSalvo, MD, officially stepped down as National Coordinator, passing the baton to her second-in-command, Vindell Washington, MD. The former principal deputy national coordinator has been with ONC since January 2016.
As National Coordinator, Washington will continue working toward the goal of leveraging health IT to reform care delivery and empower clinicians with research and innovation, Health and Human Services Secretary Sylvia Burwell said in a statement."
This above excerpt is followed by 9 things you need to know about Washington, and it's worth your time.
Precision Medicine and New-Age EHRs
At Healthcare IT News, John Andrews speaks to a few experts about precision medicine, the new era of EHRs, and the healthcare industry's tendency to fall a bit behind when it comes to technological innovation. This longform article is packed with useful information about healthcare IT and what's in store.
Mobile Healthcare is the Next Generation
The future of EHR and healthcare is mobile, and Edgar Wilson takes a look at how this future could play out. He writes about mobile security, mobile accessibility, and how mobile communication can change how the healthcare industry operates. If you haven't spent a lot of time on the AmericanEHR blog, it's definitely worth exploring.
IT News
IT Leaders and What It Means to be Authentic
Sarah K. White looks at the meaning of authenticity and what it means for IT leaders.
"Authentic leadership is a keystone to a successful business, but what determines an authentic leader from an inauthentic leader? After talking to people in positions of leadership at their companies, there are four key traits that will help determine whether or not you're an authentic leader." Click the link above to read about the aforementioned traits.
The Struggles of Operationalizing Big Data
Thor Olavsrud delves into the issues of operationailizing big data. He takes a look at the difficulties of hiring strong data scientists, as well as governance problems. It's well worth a read if you're going through any of these struggles.
Virtelligence Consulting Recap
Diving into Planning an Epic Implementation
Thursday featured our first guest article, which shone a light on planning stage of an Epic implementation. Some of our Epic consultants and our client relatiions team members shared some of their tips for a successful implementation experience.
Consulting Job Spotlight: Epic Cupid, Beaker, and Technical Staffing
On Tuesday, we showcased a four of our most interesting opportunities. If you're an Epic Cupid consultant, an Epic Beaker consultant, or a IT Project Manager, one of these jobs might be for you. If you don't see something in there that you fits your skillset, you can always check our career portal to see if there's an opening to match your expertise.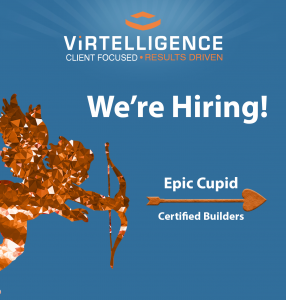 One More Thing
Using Windows 10? Here's 14 Shortcuts to Make Your Life Easier
If you're a Windows 10 user and none of the above information is relevant to you, hopefully this is! Here's 14 shortcuts for your fancy new operating system that can help you work smarter, not harder. We're big fans of that.
That's it for this installment of our Weekly Round-Up. If you like what you read, be sure to subscribe for future updates. Our Round-Up will feature the articles which we found most relevant or interesting, our original blog posts, and a spotlight of our open consulting positions. It's everything you need, all in one place!
Have a great weekend!