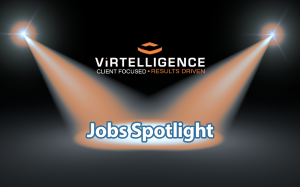 Happy Monday! We hope you enjoyed your weekend. We've got four positions in this week's Jobs Spotlight that we're looking to fill immediately. Our Epic Cupid Build position from last week makes a triumphant return today to take over our highest priority open opportunity. Take a look, and get in touch with us if there's a consulting position that you're interested in. Be sure to subscribe to our blog to receive our Jobs Spotlight each week.
Epic Cupid Certified Builder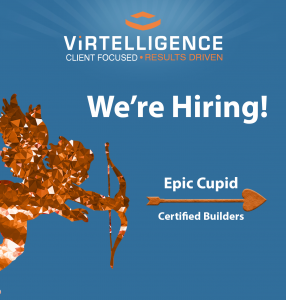 Location: Pennsylvania
Industry: Healthcare IT Consulting
Job Description:
We have a healthcare client in the Philadelphia area in need of an Epic Cupid certified builder with Smartform experience. This is a 6 month engagement with the opportunity for extension.
Certification required
3 years minimum Epic experience required
Experience with at least one enterprise implementation from validation through build, testing, go-live, and post go-live support preferred
Strong communication and organizational skills required
Epic Cupid Certified Analyst
Location: East Coast
Industry: Healthcare IT Consulting
Job Description:
We have a healthcare client in the Philadelphia area in need of an Epic Cupid certified analyst. This is a 5 month engagement.
SKILLS  NEEDED: Epic Cupid certification a must.

Epic Radiant or Epic Clarity a plus.

DUTIES:  Expected to perform design/build/testing, then help with an eventual Epic Go-Live.
START DATE: Immediately
DURATION: 3 – 5 months.
Remote work is not an option for this role.
Financial Analyst Consultant
Location: West Coast
Industry: Business Intelligence Consulting
Job Description:
Our West Coast client is in need of a Financial Analyst with the following qualifications.
Support of annual operating budgeting and analysis, including modeling.
• Consolidation of multiple budget spreadsheets and creation of reporting tool.
• Creation of budget variance analysis reporting templates.
• Support of capital budgeting and creation of spending and balance reports.
• Perform ad hoc projects and analysis as needed.
• Broad experience in financial analysis, modeling and budgeting (required).
• General knowledge of Generally Accepted Accounting Principles, general ledger and financial statement production. (highly desired)
• Highly analytical, detail oriented and accurate (required).
• Excellent verbal and written communication skills (required).
• Expert level of experience in Excel spreadsheets (required).
• Self-motivated with a broad understanding of financial and business office technologies (required).
• Ability to work with limited supervision (required).
Epic OpTime/Anesthesia Consultant (Full-Time)
Location: West CoastIndustry: Healthcare IT ConsultingJob Description:We are seeking an Epic certified Optime/Anesthesia consultant for our West Coast client. This position is a full-time, permanent position. Requirements:
Consultant must be Epic Optime/Anesthesia certified.
Strong communication and teamwork skills are necessary.
Other Epic certifications a plus, but not required.
Other Needs
If none of the above consulting jobs fit your skillset, we're also looking for the following positions: SQL Server DBA in the Midwest, Epic Ambulatory Report Writer, a Senior Security Analyst, and a MEAN Stack UX Developer/Designer in Texas.
Remember to subscribe to the blog to stay up-to-date on our exciting opportunities. To find out more information about any of these opportunities, leave a reply on this blog post or send an email to kschulte@virtelligence.com.
Have a great day!