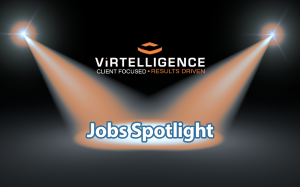 Good morning (to our US-based readers)! This week we've got a few hot jobs to highlight. Get your applications in fast because we're looking to fill these openings ASAP! To apply for any of these jobs, go here or email kschulte@virtelligence.com.
Location: Georgia
Industry: IT Consulting
Job Description:Our client in Georgia is seeking an expert Information Security Analyst.Qualifications:
Certified Information Systems Security Professional (CISSP) or other industry certification preferred.
Strong understanding of access control methods including access control lists, encryption key management, and user and group administration.
Strong understanding of risk management frameworks, both Client's specific and industry standards
Strong understanding of Regulatory compliance initiatives related to Sarbanes Oxley/SOX (COSO control framework).
Strong understanding of Risk management policies, initiatives, and procedures
Strong understanding of computer networking
Strong understanding of two-factor authentication
Strong analytical, problem solving, design, and implementation skills to facilitate resolution of technical compliance issues and support maintenance of an effective controls environment.
Strong understanding of encryption/data protection
Strong understanding of vulnerability assessment and vulnerability management methodologies.
Strong understanding of new and emerging technologies.
Strong understanding of industry and Client's compliance regulations.
Strong project management skills.
Responsibilities:
Federal Reserve is looking for an information security analyst/engineer with a focus in information security assurance.
The successful candidate will have strong understanding and implementation of NIST security controls including developing and maintaining of information security processes and procedures.
Candidate will act as the subject matter expert and principal consultant to business clients and department management on matters of information security policy, risk assessment, access controls, and compliance.
Working closely with other security engineers, Candidate will also be called up to conduct control assessments, risk assessments with minimal guidance.
Candidate will serve as a security controls subject matter expert for business areas and participates in District level information security workgroups.
Bachelor's degree from an accredited college or university with specialization in an information technology field or equivalent combination of experience, education, and/or certification preferred.
Three to five years of information security experience encompassing project management, information security, risk management, and compliance.
Strong Information security fundamentals, and information security policies and procedures knowledge.
Familiarity with Information Security tools such as vulnerability scanning tool, access monitoring tool, etc. preferred.
Familiarity with information security frameworks such NIST/ISACA/ISO.
Strong interpersonal, analytical and customer service skills.
Flexibility to quickly adapt to changing business needs and processes.
Ability to identify, analyze, communicate and resolve security related issues.
Location: New York City
Industry: Healthcare IT Consulting
Job Description:
Our New York-based client is in need of an Epic Interface Lead.Responsibilities:
Demonstrate knowledge of the organization's Mission and Vision, and incorporates them into the performance of duties.
Challenge existing ideas and develop and champions new ones that add value to the organization.
Demonstrate knowledge of the organization's Core Values and Service Standards and incorporate them into the performance of duties.
Research best practice and implement leading practice standards.
Ensure all quality assurance processes are followed, including change management and testing efforts.
Manage the scope, cost, schedule, quality, and success of assigned applications and participate in management of the Epic project.
Work with appropriate parties to identify change implications, target audiences and messaging techniques.
Ensure functionality in new releases is properly analyzed to consider for implementation.
Coordinate software updates and changes.
Lead the development, review and delivery of project deliverables identified in the project plan.
Collaborate with other application leads and project managers to ensure processes and other technical solutions are effectively integrated.
Ensure the thorough review and testing each new release and enhancement.
Partner with operational counterparts to identify enhancement requests.
Manage the identification, documentation, research, and resolution of project and related project issues.
Ensure collaboration with the training team, and coordination of team on training activities.
Ensure that data interfacing into and out of Epic meets business needs.
Participate in disaster recovery measures.
Provide oversight of on-site support activities during go-lives and system upgrades.
Participate in the change management process.
Identify project issues and proactively initiating action to resolve them.
Prepare budgets and cost estimates and monitor spending.
Negotiate with vendors and conduct contracting.
Ensure open lines of communication among the project tracks, teams, and users.
Monitor, evaluate, and justify staffing requirements.
Meet frequently with analyst team(s). Conduct coaching and provide feedback.
Provide team members to with growth opportunities, stretch roles and training.
Lead, assign and monitor work for the Epic project team and guide and train team members.
Conduct performance reviews in accordance with Client's policy.
Stay current on health care and technology topics, and pursue opportunities to expand knowledge.
Minimum Qualifications:
Excellent written and oral communication skills
Strong analytical skills and experience implementing Epic applications
Strong interpersonal relationship skills
Considerable process design experience
Demonstrated ability in staff mentoring and adherence to process standards around documentation and workflow design
Excellent project management skills (ability to lead meetings, prioritize, resolve conflicts, maintain issues list, manage project plan)
Bachelor degree in relevant field of work, and 3-5 years of related work experience are required
Epic certification in lead application required.  Additional workflow certifications preferred.
At least one year of Epic experience
Significant IT implementation and/or support experience
Participation in at least one full implementation lifecycle
Significant healthcare experience
Preferred Qualifications:
Project Management Professional, or like experience
Advanced degree or clinical certification preferred
Location:US Southwest
Industry: IT Consulting
Job Description:
Our Southwest US client is seeking a Billing Process Analyst.
Required Skills:
Demonstrated knowledge of collections management
Ability to manage claim denial activities
Understanding of reimbursement methodologies and terms
Understanding of payer billing requirements
High level of problem solving skills
Ability to interpret and execute on department policies and procedures
Ability to ensure the confidentiality and rights of patients and the confidentiality of organizational and departmental documents
Working knowledge of personal computers and other standard office equipment
Must demonstrate a positive demeanor, good verbal and written communication skills, and be professional in both appearance and approach
Must be able to handle potentially stressful situations and multiple tasks simultaneously
Must be able to successfully complete additional job related training when offered
Minimum: High school diploma
2 years of experience
Preferred Skills:
Understand payor guidelines related to claim submission and follow-up; be knowledgeable and proficient with payor websites and other useful resources pertaining to the billing function
3 years of experience
Responsibilities:
Independently manage daily work to complete collection and AR activities: third-party payer, self-pay and denial management
Responsible for maintaining a low receivable by consistent follow-up on billed accounts to ensure timely payment
Ensure that all activities related to collection functions meet customer requirements, maximize revenue collection, and achieve best practice targets
Monitor accounts receivable daily through collector work lists; review and follow-up on aged trial balance reports consistent with methodology of the department for all accounts
Independently manage and adhere to operational policies, processes and best practices for follow-up and denial activities
Perform all follow-up functions needed to appropriately and accurately resolve outstanding accounts
Responsible for notating accounts and activity call so that history is documented in the system
Daily focus on attaining productivity standards, recommending new approaches for enhancing performance and productivity when appropriate
Follow established processes required to initiate legal proceedings, employ private collection agencies, or collect special arrangements for delinquent accounts
Remain current on collection procedures of various payors to provide assistance in times of absence (vacations, LOA)
Analyze and research denials, follow-up with the payor / department / patient to resolve denials, and document follow-up on denials
Other NeedsIf none of the above consulting jobs fit your skillset, we're also looking for the following positions: Any certified Epic consultant, a Senior Paralegal, and a Network Design Engineer, as well as several Cerner consultants.
 To apply to any of these positions, click here. Remember to subscribe to the blog to stay up-to-date on our exciting opportunities. To find out more information about any of these opportunities, leave a reply on this blog post or send an email to kschulte@virtelligence.com. Have a great day!