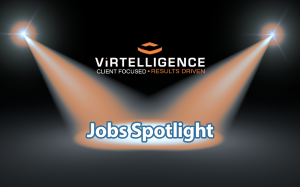 Happy Election Day Eve! Speaking of big decisions, have you found your next contract opportunity? We've got a more than a few hot jobs for you to consider in our Jobs Spotlight this week! If you don't see what you're looking for, reach out to us directly (below) to inquire about other open positions or to submit your resume to one of our IT Recruiters.
Desktop/Device Support Technician
Location: California
Industry: IT Consulting
Job Description:
Assists with providing problem resolution, analysis, specifications and configurations, coordination, testing, and installation of computer/mobile device based software, peripherals, local area networks (LAN) and other peripheral equipment.  May assist with informal training of computer/mobile device users.  Assists in the maintenance of asset control and adherence to departmental / system policy directives and maintains the highest level of data security.
Troubleshooting
Provides first level problem resolution for enterprise/system-wide computer/mobile device hardware, operating system software, application programs, peripheral equipment, and LAN interfaces
.• Within general guidelines, manages priorities based upon severity, workflow, and time constraints.
• Applies system expertise, skills, and knowledge effectively in solving desktop workstation and personal computer, associated equipment, and network connectivity technical problems throughout the Client's user community.
• Works with other Desktop Support staff, Network Engineers, and system/program application personnel to resolve technical issues as required.
• Works with other IS team members to provide timely support services to the user and receive, log-in, document, and close-out trouble calls using the service tracking tool(s).
• Coordinates tasks and activities with other departments/sections and vendors as appropriate or directed.
• Formulates service support efforts based on customer schedule needs.
• Maintains courteous rapport and friendly customer relations; communicates with users at their level of understanding.
• Maintains confidentiality of all data per Client's policies.HardwareAssists with analyzing, defining specifications, configuring, coordinating, installing, repairing and testing computer/mobile devices, peripheral equipment (including but not limited to: projectors, scanners, and other multimedia equipment) and LAN interfaces.
• Assists with analyzing and defining specifications for user computer/mobile device requirements.
• Configures and installs new hardware and upgrades to existing user system components.
• Ensures proper configuration and performance of installed computer/mobile devices.
• Coordinates installation of computer/mobile devices and peripherals with vendors.
• Assists with the accuracy and integrity of the asset control process.
Software
Performs installation of approved software on computer/mobile devices, following the standard procedures.
• Coordinates installation of computer/mobile device software with customers
.• Configures and installs software upgrades/fixes or patches.System Maintenance
• Assists with evaluation, analysis and maintenance of computer/mobile devices to meet the Client's enterprise technical and security standards.
• Under direction and supervision, maintains the proper updates and OS patch configurations.
1. High School Diploma (Required)
2. Experience setting up computer workstations with all applicable software drivers, applications, and network client modules (Desired)
3. General knowledge of network topology.  (Desired)
4.  General knowledge of quality control methods and understanding of problem identification and resolutions analysis. (desired)
5.  Articulate technical and user needs in a concise manner easily understood by all. (Desired)
6. AA/AS or equivalent education/experience (desired)
7. MCP or A+ Certification (desired)
8. Experience in a customer service setting (desired)
9. Knowledge of programming, design, structured development techniques and analysis (desired)
10.  Knowledge of multiple operating systems (desired)
Location: Southern United States
Industry: Healthcare IT Consulting
Job Description:
Our Healthcare IT Client is searching for an Epic Radiant Analyst consultant for a 3-to-6 month engagement. There is potential for FTE work after this, though it is not guaranteed (nor is it mandatory for any Epic Consultant to agree to FTE work). This is a pure build role.
Current Epic Radiant Certification is required.
Location: Southwest United States
Industry: Healthcare IT Consulting
Job Description:
Under the direction of the IT Application Manager, this position is responsible for the continuing deployment and development of vendor proprietary hospital application software necessary to run business, clinical or financial systems within a large integrated hospital system. This position works on the analysis of existing and proposed vendor supplied software functionality to determine ifthe software conforms with current clinical health system workflow processes. The position utilizes specialized, proprietary software tool sets to enable software functionality; participates withinproject teams to achieve team goals and outcomes; provides measurable customer service, and performs duties within the Client's missions and values. This position will frequently work in conjunctionwith members of the Project Management Office to lead information technology deployment and optimization efforts based on the organization's performance improvement objectives.
*** Highly Preferred *** 
Endosoft or Provation Implementation Experience
Clinical Endoscopy Experience
Project Implementation
Interface understanding
Qualifications:
Requires a Bachelor's Degree in Business, Nursing, Information Systems (IS) or related field; or an equivalent combination of training and progressively responsible experience that will result in therequired specialized knowledge and abilities to perform the assigned work in lieu of degree. Prefer up to two (2) years of healthcare, consulting, or IT related experience that demonstrates a basic understanding of the standard tools, workflow processes, and/or procedures and concepts used in the deployment and development of application software necessary to run the healthcare systems business, clinical or financial systems. Prefer knowledge of health system workflow or business processes related to supported application.  Must be able to use basic analytical methods to analyze and streamline business processes. Must be able to demonstrate understanding of the fundamental tools and concepts of one of the information technology professional disciplines (i.e., Applications, Business Analysis, Customer Service, Data, Networking, Operations, Security, Systems Engineering, etc.) and apply that understanding to make independent practical contributions to IT work within a particular Client department or function. Must be able to demonstrate increasing independence and decreasing need for work direction to succeed in an ever-widening range of assignments.  Must possess good interpersonal and communication skills both verbally and in writing including the ability to inform and advise.  Must have ability to collect and analyze data; and the ability to perform workflow analysis and translate the outcome into definable software functionality. Must be able to exercise initiative in conducting the necessary facilitation and resolution of application/system design. Requires the ability to develop initiatives in an innovative manner for effective resolution.  Must be able to prepare and conduct effective presentations; assess priorities and self-time manage through deliverables; and coordinate activities with diverse groups and individuals.  Requires the ability to read, write and speak effectively in English.
If none of the above consulting jobs fit your skillset, we're also looking for the following positions: Senior Compensation Analyst, Epic ADT Analyst, Epic Cadence Analyst, and an Interface Developert, and an Interface Developer. Leave a comment or email the address below to find out more!
Remember to subscribe to the blog to stay up-to-date on our exciting opportunities. To find out more information about any of these opportunities, leave a reply on this blog post or send an email to kschulte@virtelligence.com. Have a great day!