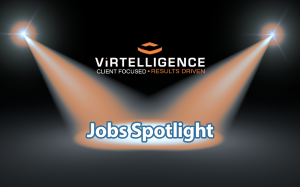 Happy Monday! We're hoping that the long holiday weekend treated you nicely. To get back into the swing of things, we have a full slate of new opportunities for you this week! Check out our Weekly Jobs Spotlight below for exciting contract and full time consulting positions.
Location: Phoenix, Arizona
Industry: Healthcare IT Consulting
Job Description:
A healthcare IT client in Arizona is looking for an Epic Beaker CP Build Analyst for build, test, and go-live. the organization is switching from a legacy LIS. This is a contract Epic consultant position.
The ideal Epic consultant will:
Aid in build, design, analysis, and testing
Oversee documentation maintenance for tracking, build, and testing
Have extensive build experience
Be an excellent communicator
Be certified in Epic Beaker
Location: Michigan
Industry: Healthcare IT Consulting
Job Description:
The ideal Cerner Technical Engineer must have extensive Cerner backend systems connectivity expertise.This is a great opportunity to progress in the healthcare IT industry.
The ideal Cerner consultant will:
Be the technical liaison to Cerner remote hosting CernerWorks Team
Create Cerner print queues, wristband, laser, and label printers
Oversee the 7/24 Downtime systems
Provide server support
Contribute to process and system support documentation
Research, design, install, integrate, support, and optimize solutions not supported by CernerWorks teams.
Location: New York
Industry: Healthcare IT Consulting
Job Description:
Our New York Client is in need of an Epic Willow consultant for a contract opportunity. The ideal Epic Willow consultant will be a Pharmacist with an Epic Willow certification. The ideal Epic consultant will also have strong build experience. Excellent communication skills are desired for this role. For more information, contact nox@virtelligence.com.
Location: Minneapolis
Industry: Business IT Consulting
Job Description:
We are in search of a Senior Systems Analyst consultant for a permanent (full-time) position in the Minneapolis area.
The ideal Senior Systems Analyst consultant will:
Aid in system configuration, design, validation, and implementation
Transform requirements into software design
Document functional capabilities of purchased software and integrations of purchased software
Coordinate with secruity and infrastructure teams
Produce deliverables, including configuring documents, integrations, and user mock-ups
Document technical and integration design specifications for software developers & programmers
Define testing cases and scripts
More, as needed
Requirements:
Bachelors Degree in Computer Science/Software Design, or equivalent
5+ Years of experience
Proven experience integrating ERP software with 3rd party applications
Excellent communication, customer service, and analytic skills desired
For more information, contact crunning@virtelligence.com
Other Needs
If none of the above consulting jobs fit your skillset, we're also looking for the following positions: Any certified Epic consultant, an HR Recruiter, a Systems Administrator, an Application Analyst, a Desktop Technician, and several Cerner consultants. 
To apply to any of these positions, click here. Remember to subscribe to the blog to stay up-to-date on our exciting opportunities. To find out more information about any of these opportunities, leave a reply on this blog post or send an email to kschulte@virtelligence.com. Have a great day!