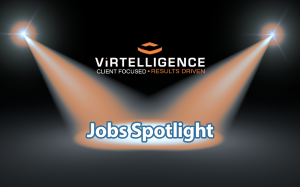 Happy Monday! Here are the consulting opportunities we're highlighting this week. To apply for any of these jobs, go here or email kschulte@virtelligence.com
Epic Consulting – Willow/Beacon
Location: North Carolina
Industry: IT Consulting
Job Description: Apply Here.
Our client in North Carolina is seeking an Epic Willow/Beacon Applications Analyst to join their team.
Pharmacist degree required with oncology experience.  Must be Beacon, Willow, and Epic certified.  Resource will supporting treatment and protocol build, as well as working on 2016 upgrade.  Must be flexible, work well with others, and must be punctual.
BASIC PURPOSE:
Perform in-depth analysis of workflows, data collection, report details, and other technical issues associated with Epic software and unit/area specific workflows.  Collaborates with other team members to assist in design, validation, and problem resolution throughout the project lifespan.
MAJOR WORK ACTIVITIES:
Collaborates with technical and business resources and end user groups to ensure the system meets the organization's clinical and patient care needs.Identify and consider end users' preference, as well as business operations, while making build decisions.Review and test data conversions, interfaces, and new application releases.  Populate databases during the initial system build.  Ensure that data coming across an interface into an Epic application meets the business need.Develop and document internal procedures to use in conjunction with Epic applications. Establish change control  processes.Participate in training and work with end users.  Troubleshoot problems and questions from end users.
KNOWLEDGE, SKILLS AND ABILITIES
Proven track record of of academic and/or professional success.
Strong communication, prioritization and follow up skills.
Strong analytical and decision making skills.  Ability to probe for information about underlying needs of the organization and user community, which directly influences how the system will be built.
Ability to multi-task with strong attention to detail.
Willingness to address issues and take ownership, knowing when and how to escalate issues.
Requires proficiency in the use of a computer for tasks such as creating/evaluating workflow diagrams, testing, creating documentation, etc.
Stand and/or walk for majority of work day.
Bend and/or stoop frequently.
Lift thirty pounds or more four or more times an hour.
Sufficiently mobile to push carts with equipment inside and outside of buildings.
Sufficiently mobile to go to and from office to hospital and to other sites in the enterprise.
Communicate via telephone and other means such as fax and voice mail.
See computer screens and documents.
See "MINIMUM QUALIFICATIONS" section for additional requirements.
EDUCATION:
Required:
Bachelor's degree in pharmacy; Preferred:   PharmD preferred
LICENSURE/CERTIFICATION:
Required:
Incumbents will be required to successfully complete Epic certification at the first opportunity after their hire date.
Current, valid NC pharmacy license.
SKILLS AND EXPERIENCE:
Required:
Two years of experience in specified clinical area.
Position requires in-depth knowledge of Client's policies, procedures and busines applications.
Preferred Experience in HIS implementation.
Training Coordinator
Location: East Coast
Industry: Healthcare IT Consulting
Job Description: Apply Here.
Our East Coast client is in need of a part-time Training Coordinator.
The Training Coordinator plays an important role in supporting the Hospital's learning and development functions. Key responsibilities include: instructor-led classroom and event coordination, program support and communication, monitoring, and reporting.
Job Responsibilities:
Training Coordination
Coordinates learning activities.
Assures appropriate learning materials are completed and ready for participants.
Manages inventory of event supplies and materials.
Coordinates all aspects of classroom-based learning events, including: facilitator scheduling; room scheduling; catering; set up and breakdown; media preparation; attendance tracking; pre and post event participant support.
Works flexible hours and offsite as needed to support events and activities.
Required Education and Experience Minimum education required; cite years and type of experience
Bachelor's degree preferred.
Three to five years of relevant training coordination or event planning experience.
Exceptional customer service skills.
Strong oral and written communication skills.
Strong attention to detail.
Ability to work independently and with a broad range of people to support programs and projects.
Strong organizational and time management skills.
Experience working in a healthcare or academic environment desired.
HR Recruitment Coordinator
Location: Philadelphia
Industry: IT Consulting
Job Description: Apply Here.
Our Philadelphia-based client is looking for an HR Recruitment Coordinator immediately.
Works in conjunction with the recruiting team to help coordinate all interviews and screenings.  Acts as a main point of contact for the candidate while interviewing for open positions.  Responsible for sourcing, screening and qualifying candidates according to specifications provided by talent strategist. Responsible for executing and contributing to sourcing plans and providing administrative, research, and reporting, support for talent acquisition initiatives. Responsible for assisting the talent strategist for all open requisitions.
Job Responsibilities:
Conducts day-to-day sourcing activities for qualified candidates across all modalities and services.
Works closely with Talent Strategist to deliver and execute a sourcing strategy aimed at generating candidate flow for high priority open positions and developing and sourcing appropriate candidates to support a strong pipeline that fit the requirements as well as develop future leads from their pipelining efforts.
Candidate identification, cold calling, direct marketing, database management, internet mining, resume/cv screening, and telephone screening for current and future position openings.
Builds and maintains skill set pipelines of both active and passive candidates, ensuring pipeline provides a diverse, highly qualified, interview/selection slate.
Generates targeted communications to candidate and prospective candidates through a variety of methods.
Partner with recruiters to generate ideas, leverage resources and share information that facilitates and effective search process.
Effective maintains ATS and/or contact management systems.
Generates viable leads from pipelining efforts and transitions them to the appropriate talent strategist to pursue.
Keeps Talent Strategists informed of issues that could negatively impact schedules/milestones/completion dates.
Provides general and varied administrative support to talent initiatives.
Adapts to changing priorities and deadlines.
Tracks sourcing activity and candidate status and provides reports to talent strategist.
Assists in the coordination of other recruiting activities as needed.
Coordinates candidate interviews as needed.
Prepares postings and equity information; may assist with advertising job  positions
Assembles packets and materials for new hires.
May post current job list openings
Answers recruiting calls and refers calls to the appropriate resources; answer questions related to the recruiting process
Responsible for assisting the Talent Strategist in coordinating the entire recruitment process
Assists the Recruiting Assistants for all pre-employment requirements for all new hires
Attends New Employee Orientation every two weeks and assists with answering all new hires questions and assist the recruitment assistant with obtaining paperwork
Utilize online recruitment services to attract and source applicants
Proactively plan and assists the talent strategist with  managing the recruitment for all positions within the relevant departments; including managing attraction campaigns and candidate sourcing, skills & personality testing and behavioral interview assessment
Utilize applicant tracking system and other databases to source and pre-screening qualified candidates
Ability to post jobs on career sites and utilize other recruitment tools
Work closely with Recruiters to identify client needs
Assist with scheduling interviews, testing, open houses and career events
Required Licenses/certificates/registrations:
3-5 years of experience in a professional environment preferred; Experience in Human Resources preferred.
Additional Technical Requirements
Ability to effectively manage time, work on several projects at once and understand all concepts involved in the work performed.
Exceptional follow-up skills.
Ability to develop and maintain long term candidate relationships.
Excellent written and verbal communication skills.
Excellent phone etiquette.
Excellent written and verbal communication skills.
Proficient in MS Office software applications.
Other Needs
If none of the above consulting jobs fit your skillset, we're also looking for the following positions: Any certified Epic consultant, an AR Accounts Representative, a Database Administrator, and an Allscripts Sunrise Inpatient Billing Analyst, as well as several Cerner consultants. 
To apply to any of these positions, click here. Remember to subscribe to the blog to stay up-to-date on our exciting opportunities. To find out more information about any of these opportunities, leave a reply on this blog post or send an email to kschulte@virtelligence.com. Have a great day!