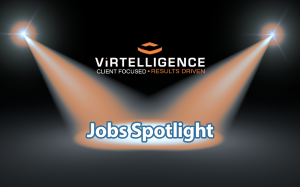 Happy Tuesday! Here are the consulting opportunities we're highlighting this week. To apply for any of these jobs, go here or email kschulte@virtelligence.com.
Epic Radiant Analyst
Location: New York
Industry: Healthcare IT Consulting
Job Description:
Our New York-based healthcare client is in need of an Epic Radiant Analyst for a full time opportunity.
Epic Radiant certification is required.
Radiant build experience.
Excellent communication skills a must. You will  be in constant communication with Epic representatives.
Perform in-depth analysis of workflows, data collection, report details, and other technical issues associated with Epic software
3+ years' experience working in a Healthcare setting, physician practice, or hospital.
Develops small project objectives and schedules.
Directs small project activity, monitors schedule, verifies project against schedule, makes adjustments that are within scope of responsibility and recommends changes to manager/leader.
Works effectively with other analysts by assisting in the development of test plans and documenting test results for changes.
Completes work within established timelines.
IT Security Analyst
Location: Pacific Northwest
Industry: Healthcare IT Consulting
Job Description:
The Security Analyst recommends and develops the implementation of electronic information security measures to protect against unauthorized access, modification or loss. The Analyst is responsible for the development and implementation of enterprise electronic security policies and procedures. Working closely with other IT staff, the Security Analyst provides expert guidance in all areas of computer security.  This position will work with all levels of the organization to ensure the maximum level of security consistent with organizational risk, information access requirements, current business strategies and information technology strategic plans.
Preferred:

CompTIA Security+, Microsoft MCSA/MCSE, Cisco CCNP/CCNA certification
CHP, END/ECSA, certification is desired.
Excellent communication, interpersonal, troubleshooting and documentation skills.
Ability to effectively present information, respond to questions, and educate diverse groups of people
Ability to use common sense and logical thinking to solve practical problems and interpret instructions for complex oral or written processes.
Knowledge of LAN/WAN principles and protocols
Experience in Active Directory, GPO and permission methods.
Knowledge of operating systems, specifically Windows Server and Linux
Knowledge of firewalls, routers, wireless, IDS/IPS systems, detecting compromised systems and securing Internet accessible production systems.
Experienced in incident response and analysis to reconstruct intrusion attempts to develop appropriate defenses.
Ability to read, write, analyze, and interpret general business periodicals, professional journals, technical manuals, and government regulatory guidelines.  Ability to learn new technology quickly
Project Manager III
Location: East Coast
Industry: IT Consulting
Job Description:
Our East Coast healthcare client is seeking an experienced Project Manager III.
1. Creates, coordinates, and manages advanced level projects involving organization-wide systems.
2. Exhibits advanced proficiency in Client's project management methodology, tools and practices.
3. Demonstrates proficiency in creating detailed documentation for complex projects.
4. Communicates effectively with project staff and stakeholders.
5. Demonstrates effective consensus-building skills.
6. Demonstrates ability to manage advanced level projects and to coach other team members.
7. Manages 8 to 15 project staff members.
Job Responsibilities
A Project Manager III is a senior contributor with similar responsibilities as the Project Manager II, but with a greater degree complexity.  A Project Manager III may be involved in some leadership activities.  A Project Manager III also:
Manages large projects of moderate to high complexity which may include the creation, coordination and management of a project plan for major complex system installation or modification.
Information Security Requirements
1. Understand and comply with all enterprise and IS departmental information security policies, procedures and standards.
2. Support the integration of information security in the development, design, and implementation of Hospital Technology Resources that process, transmit, or store Client's information.
3. Support all compliance activities related to state, federal regulatory requirements, healthcare accreditation standards, and all other applicable regulations that govern the use and disclosure of patient, financial, or other confidential information.
Required Licenses/certificates/registrations
1. PMI member in good standing.
2. PMP certified.
Required Education and Experience
1. A bachelor's degree in Business, Healthcare IT or related field required.
2. 8 to 15 years solid experience as a project manager in IT project management with increasing responsibilities.
3. Master's degree desired.
Other Needs
If none of the above consulting jobs fit your skillset, we're also looking for the following positions: Any certified Epic consultant, a Senior HR/Payroll Business Systems Analyst (Infor/Lawson), a Desktop/Device Support Technician, an IT Security Analyst, and a Sunquest Application Analyst., as well as several Cerner consultants. 
To apply to any of these positions, click here. Remember to subscribe to the blog to stay up-to-date on our exciting opportunities. To find out more information about any of these opportunities, leave a reply on this blog post or send an email to kschulte@virtelligence.com. Have a great day!