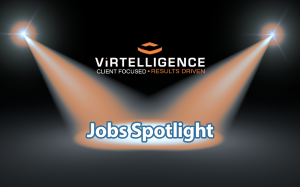 Happy Monday! Here are the consulting opportunities we're highlighting this week. To apply for any of these jobs, go here or email kschulte@virtelligence.com
Network Engineer
Location: New York
Industry: IT Consulting
Job Description:
Our client in New York City is seeking an experienced Network Engineer to join their team.
Perform wireless site surveys and network assessments.
Implementation and troubleshooting of 802.11a/b/g/n technology with primary focus on Cisco Unified Wireless Network.
Implementation and troubleshooting of wireless guest access.
Implementation and troubleshooting Cisco Prime Infrastructure.
Implementation and troubleshooting Mobility Services Engine. Experience with CMX features a plus.
Work closely with Sr. WLAN/Network engineers to review WLAN designs and implementation strategies.
Able to effectively prioritize tasks in high-pressure environments.
Communicate and collaborate in cross-functional team with Security and other related departments.
Validate the impact of configuration changes on network behavior and performance prior to deployment.
Perform lab tests on all infrastructure upgrades and work with vendors on code train developments.
Document and participate in centralized function design, process design, and standard definition work.
Technical and Educational Requirements
BA/BS degree in Computer Science, Engineering, Telecommunications or at least 5 years of high-level network Delivery / Implementation experience.
Expertise and certifications related to wireless technologies such as CCIE/CCNP, CWNE/ CWDP/CCDP preferred.
Knowledge of wireless engineering tools such as AirMagnet Survey Pro, OmniPeek, Cisco Spectrum Expert, and Fluke Spectrum XT.
Strong proficiency in Cisco Prime Infrastructure.
Capable of wireless troubleshooting methodologies and techniques.
Experience in implementation of wireless 802.11a/b/g/n.
Experience in secure mobility design, and voice/video over WLAN Delivery / Implementation.
Understanding QoS and how to design/deploy QoS.
Knowledge of enterprise based wireless components.
Strong understanding of enterprise routing/switching.
Strong understanding of general network security.
Other Qualifications/Requirements:
Ability to work independently as well as collaboratively within and between project teams.
A valid driver's license & ability to lift 75lbs for equipment racking.
Epic ADT/Grand Central Application Analyst
Location: Minnesota
Industry: Healthcare IT Consulting
Job Description:
Our healthcare client in Minnesota is in need of an Epic ADT/Grand Central Application Analyst.
Bachelor's degree or combination of education and related work experience
5+ years of IT application experience
Strong understanding of the Software Development Life-Cycle (SDLC).
Demonstrated analytical critical thinking skills for process development or problem resolution.
Demonstrated working knowledge and expertise of healthcare processes and application system coordination.
Demonstrated knowledge of database structure and working practice of reporting techniques and tools.
5 + Years Knowledge of one or more Epic modules
Epic Certifications in one or more areas
Epic/ADT/Grand Central Certified
Systems Engineer II
Location: East Coast
Industry: IT Consulting
Job Description:
Our client is searching for a SAN Storage Engineer with 3 to 5 years experience providing Hitachi and EMC storage administration services.
Requirements:
Bachelor's degree or substitute years of job experience.
At least one year hands-on experience with large SAN installation.
Previous experience (3-5 years) supporting Windows and Unix Server Platforms.
Experience and Knowledge of storage hardware such as Hitachi VCP, USPC HUSVM, HNAS, EMC VNX and PureStorage.
Knowledge of Storage tools from HDS and EMC.
Experience with zoning, configuration and management of Brocade SAN switches.
Demonstrated expertise in Installing, Configuring, Administering and Troubleshooting of SAN Storage, UNIX and Windows Servers in a large datacenter environment
Other Needs
If none of the above consulting jobs fit your skillset, we're also looking for the following positions: Any certified Epic consultant, a technical implementation specialist, a change coordinator, an Epic Radiant Consultant, and a Project Manager II, as well as several Cerner consultants. 
To apply to any of these positions, click here. Remember to subscribe to the blog to stay up-to-date on our exciting opportunities. To find out more information about any of these opportunities, leave a reply on this blog post or send an email to kschulte@virtelligence.com. Have a great day!