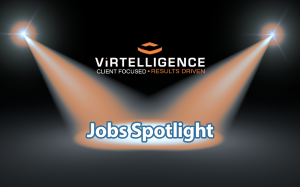 Happy New Year! To jumpstart your 2017 job hunting, here's our last Weekly Jobs Spotlight of 2016. To apply for any of these jobs, go here or email kschulte@virtelligence.com
Systems Administrator Consultant
Location: Minnesota
Industry: IT Consulting
Job Description:
Under general supervision, provides technical support to manage and propagate application changes in Retail Payments processing platforms.
Provides 24 X 7 on-call administration and support for distributed computing operating systems, server applications and middleware, and/or relational database management systems.
Supports standard application change management processes in a time critical, deadline-driven environment.
Experience:
Minimum of five years in technical support role for a distributed environment, or in a lead/supervisory role assisting operations staff with change management.
Functional Knowledge Preferences Knowledge Areas:
System/Application Implementations in large organizations
Change and Implementation Management
Configuration Management
Payments Applications
SDLC
Technical Skills:
UNIX AIX
Remedy
Infrastructure technologies
Network, Database, Server, Storage etc.
BMC Proactivenet Performance Manager (BPPM)
ITIL
Additional Qualifications:
Experience with payment applications preferred, but like product experience acceptable.
Prior experience with Remedy required.
Change and Implementation Management experience required
Understanding of ITIL concepts and standards required.
Shell scripting to review the automated install/upgrade scripts
Configuration Management preferred
Knowledge of infrastructure technologies such as Network, Database, Server, Storage etc. are a plus
Knowledge of BMC Proactivenet Performance Manager (BPPM) is a plus
Key Responsibilities:
Facilitates and implements environmental and application changes according to local and national policies and procedures, to support propagation and customization of application software, and related components from the development to other environments (i.e., test, production, contingency, etc.).
Evaluates and researches new information technologies and, when appropriate, recommends the implementation of new technologies to management, assisting with the development of a strategy for effectively coordinating, controlling, and implementing changes to all Retail Payment platforms.
Creates and updates written documentation for assigned infrastructure and application services to document compliance with Federal Reserve project and information security standards. Provides team leads with written status reports for projects and tasks. Ensure all changes have been reviewed, approved and communicate information relating to the change to appropriate Retail Payments personnel.
Participates on local and Federal Reserve System project teams to develop or implement new information technology solutions. Support the development of change management policies. Assist with training on automated change management systems.
Works with business areas and IT developers to troubleshoot and resolve basic to moderately complex daytime and after-hours production issues in a timely manner as described in IT and business area service level agreements. At times serves in an on-call capacity.
Implements and maintains distributed computing information technology solutions. Maintains and monitors the distributed computing environment according to assignment(s).
Performs other duties as assigned.
Education: BS in Computer Science or related information technology or 7 years of direct relevant technical experience may be substituted for education.
Application Analyst
Location:California
Industry: IT Consulting
Job Description:
Description
Provides routine application and technical support for the product line in addition to providing triage and troubleshooting assistance to the product customers.  Monitors the systems for data quality, efficiency, operation, and data integrity and appropriately escalates issues/problems.  Assists in system analysis, design, development, documentation, and configuration as well as testing and training of the product.  Provides standardization direction for the product aligning the application version and workflow with current standards.
Key to client's business plan, the role of client's Information Services is to make electronic data and communications available to client's employees, providers and patients to support the health and well-being of the community, enhance patient care and safety, and improve business processes and performance. Information Services (IS) key approaches to meet these needs consist of the Applications, Telecommunications, Project Management, Web, and Technology. We continue to review IS optimization across our affiliates, regions and entire enterprise.
Qualifications:
AA/AS Degree or the equivalent combination of education and experience is highly desired.
BA/BS Degree is desired.
Software implementation experience using diversified production lines of information systems is highly desired.
Knowledge of healthcare operations and structure, general requirements in an integrated delivery system, & use of information system apps is desired.
Broad knowledge of multiple and integrated systems  is required.
Work closely with healthcare application users, and technical professionals Required
Experience/Knowledge/Skills:
• Experience in healthcare applications as typically acquired in 0 to 2 years.
• Technical experience with wifi preferred
• Software implementation experience using diversified product lines of information systems is preferred.
• Effective analytical, problem and issue resolution experience is preferred.
• Demonstrated knowledge of industry standards to support business requirements is preferred.
• Knowledge of health care operations and structure, general requirements in an integrated delivery  system, and use of information system applications in the practicing health care environment is desired.
• Knowledge of application environments including production, test and interfaces is preferred.
• Broad knowledge of multiple and integrated systems.
• Thorough understanding of hospital inpatient, clinic outpatient operations, and/or financial software  along with understanding the technical environment of product lines for which they are responsible.
• Ability to multi-task.
• Good organization skills; ability to prioritize multiple activities and objectives in a rapidly changing environment, and deliver quality service.
• Work closely with health care application users, vendors, and technical professionals.
• Exceptional customer service skills, responding to user needs in a prompt, courteous manner.
• Analytical and critical thinking skills.
• Effective written, verbal and presentation skills
• Working knowledge of word processing, spreadsheet and presentation computer programs, preferably Microsoft.
Epic Senior Project Manager
Location: Southern US
Industry: Healthcare IT Consulting
Job Description:
Our Southern US healthcare client is in search of an Epic Senior PM. The ideal candidate must be Epic certified and have previous Project Management experience at a large organization or on a large project.
Qualifications:
Expert knowledge of Epic EHR
Epic certification
Bachelor's Degree or equivalent experience in related field preferred
Multiple years of experience in multiple implementations and activations desired.
Epic Hospital Billing Analyst
Location: Minneapolis
Industry: Healthcare IT
Job Description:
Education: Bachelor's degree in IT field
Experience:
Experience within the Healthcare Industry
Certifications and experience relative to the role
License/Certification/Registration
Epic Certifications for Epic roles
Job Expectations:
Utilize expertise to design new and existing applications. Configure code, test and troubleshoot existing programs. Analyze end user data and business needs to assure user-orientation and optimal program/system performance.
Proactively initiates and participates in IT workflow definition and monitoring of processes including     1) Incident and Problem Management, 2) IT Service Request and Task Management, 3) Change Control Management and 4) IT Project Management.
Accurately and efficiently works to provide application workflow and functional analysis, build and configuration, unit and integrated testing, and plans for transition to application ongoing support.  Understands workflows with the objective to meet business needs.
Effectively unit test all code and programs prior to releasing them to the quality assurance (QA) team. Resolve all unit test issues in a timely manner.
Collaborate with the QA team to identify test cases and create/mine test data to enable a thorough test of all deliverables.
Respond to all inquiries and issues in a timely manner as the developed code/program moves through the testing process and ultimately into production. Provide implementation/production support as required.
Evaluate and understand dependencies between applications to understand if making a change in one application would have a negative impact in another application.  Use knowledge of assigned application(s) to help resolve issues and drive optimal business solutions.
Maintain up-to-date application knowledge and understanding of how the business uses the applications in their workflows.  Partner with the business to gather requirements and goals to drive optimal solutions.
Evaluate, troubleshoot and lead root-cause analysis for production issues and system failures; determine corrective action and improvements to prevent recurrence.  Provide implementation/production support as required.
Proactively provide subject matter expertise regarding assigned application(s) to other members of the technology and business teams to ensure quality and minimize impact on other applications and business processes.
Coach and mentor staff regarding technology, methodologies and standards. Proactively share knowledge and collaborate with IT teams to ensure quick and effective responses to customer needs. Maintain up-to-date business domain knowledge and technical skills in software development technologies and methodologies.
Other Needs
If none of the above consulting jobs fit your skillset, we're also looking for the following positions: Any certified Epic consultant, a technical implementation specialist, a change coordinator, an Epic Radiant Consultant, and a Project Manager II, as well as several Cerner consultants.
 To apply to any of these positions, click here. Remember to subscribe to the blog to stay up-to-date on our exciting opportunities. To find out more information about any of these opportunities, leave a reply on this blog post or send an email to kschulte@virtelligence.com. Have a great day!