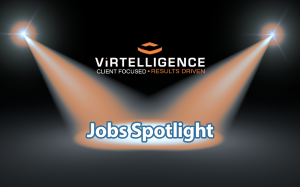 Healthcare IT Consulting
Here are the IT consulting opportunities we're highlighting this week. To apply for any of these jobs, go here or email kschulte@virtelligence.com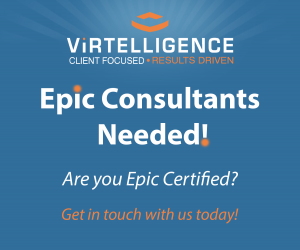 Cerner Core Analyst (Full-Time)
Location: Southeast US
Industry: Healthcare
Job Description: Apply Here.
Bachelor's degree obtained through a formal 4-year program required. (Master's Degree preferred).
Seven Years of relevant IS or Business unit experience required.
Qualified candidates should understand all facets of integration implementation and testing.
Candidate must a strong understanding of data interchange between multiple healthcare and business applications and experience integrating applications required. Experience with Corepoint, Cerner Open Engine, NextGen, and Openlink preferred.
The qualified candidate will be responsible for programming system interfaces based on real time HL7 transactions within a healthcare setting:
Completing analysis, design, develop, testing and implementation of new interfaces
Providing maintenance, support, and coding enhancements for existing interfaces
Maintaining accurate, complete integration documentation for data flows, connectivity specifications, routing, filtering, data manipulation, problem resolution, root cause analysis and change control
Interface Engine administration including application of updates and patches
Candidate should also have strong technical writing skills for the development of policies and procedures; be familiar with change control and project management.
Experience with Interface engines and file transfer systems. Experience with HL7, API, X12 and XML is a plus.
Strong interpersonal skills to effectively deal with internal and external customers is required.
Participates in on-call support rotation.
Epic ADT/Prelude Consultant
Location: California
Industry: Healthcare IT Consulting
Job Description: Apply Here.
This position will be primarily responsible for implementing and supporting Information Technology applications with minimal supervision, specifically those related to the Epic Grand Central, Cadence Prelude systems, which manage inpatient, emergency and outpatient visits for the hospitals and the physician practices; Epic Prelude, which provides patient registration, address verification, and HIPAA-compliant eligibility tools to ensure accurate billing; and Epic Cadence, a patient scheduling application.
Benefits Analyst
Location: East Coast
Industry: IT Consulting
Job Description: Apply Here.
The Benefits Analyst position requires a strong working knowledge of Leave of Absence (LOA) and health and welfare plan regulations, processing as there is a  need to understand both bodies of work as it relates to regulations, eligibility, plan design, funding, etc. in order to support client groups (Employees, Business Partners and vendors) when communicating business needs. This position works closely with Client's 3rd party Benefits Administrators, to ensure systems are functioning properly and processes are being followed.  Responsible for the timely and accurate delivery of electronic files to vendors and processing of benefits payroll files. Seeks resolution when system/LOA processing issues occur and provides follow-up with management and employees. Acts as a primary liaison with external and internal clients to resolve and troubleshoot systems/file/customer service issues.  Is responsible for benefits analysis (LOA and/or Health and Welfare) as well as interpreting policies for managers and employees as well as making recommendations for improved processes or to facilitate improved customer service/ compliance. This position requires a strong ability to compile data from various systems and prepare summaries or recommendations based on data.This position will also be responsible for the completing special projects (examples may include:  Open Enrollment testing lead, Completing Expectant Parent seminars,  Benefit Communications, Orientations, Audit Contact for External Audit and Internal Audit),  supporting planning and related activities including testing web functionality and file transmissions for various benefits.  Project work could also involve system audits, special reporting, creating training or communications related to benefits; with the focus on Leave of Absence benefits.Resource for Benefit Specialists on complex issues.  Excellent project management, customer service, organization, and time management skills • Strong verbal communication skills required in order to facilitate meeting and/or presentations.• Strong familiarity with FMLA• Familiarity with ERISA, HIPAA
To apply to any of these positions, click here. Remember to subscribe to the blog to stay up-to-date on our exciting opportunities. To find out more information about any of these opportunities, leave a reply on this blog post or send an email to kschulte@virtelligence.com. Have a great day! 
Virtelligence a National Healthcare IT consulting firm that offers Healthcare IT consulting services in the US and abroad.. Virtelligence has been awarded INC5000 – INC Magazine's fastest growing companies , "Great Places to Work" by Minneapolis – St. Paul Business Journal and HCI-100, Top 100 Healthcare IT Companies in USA in by Healthcare Informatics Magazine. Recognized nationwide for generating possibilities and creating solutions, Virtelligence welcomes you to become part of our growing team.