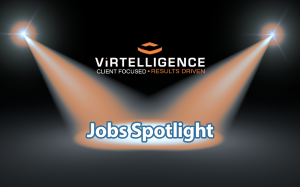 Healthcare IT Consulting
Happy last Monday in February! Here are the IT consulting opportunities we're highlighting this week. To apply for any of these jobs, go here or email kschulte@virtelligence.com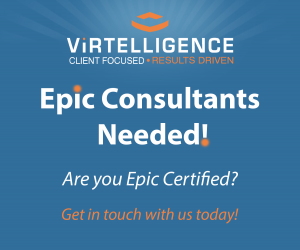 Senior HR Compliance Specialist
Location: East Coast
Industry: Healthcare
Job Description: Apply Here.
The Senior Human Resources (HR) Compliance Specialist is responsible for assessing and monitoring various compliance projects and initiatives related to Human Resources.  He or she is considered a subject matter expert on all aspects of HR Compliance and has the ability to change or influence processes as regulations or business needs dictate.• Oversee the preparation of the Hospital's annual Affirmative Action Plan with outside vendor and the Client's team.• Provide metrics of success and outcomes including action plans, trending data; and collect and share data with executive leadership and as requested related to AA/EO matters.• Prepare, edit and monitor publications related to EO, AAP and hiring for advertisements, publications,• Stay current and provide guidance on changing regulations related to OFCCP, EEOC, Section 503, and other EEO • Manages, designs and develops HR Compliance training and content as needed.• Makes process/procedural changes based on regulatory changes or business need dictate.• Manages all aspects of the HR Compliance Plan.• Assists in the management of Client's Compliance Standards.• Develops plans of action based on statistical data analysis and risk assessment.• Maintains ongoing knowledge of regulations applicable to areas of focus. • Manages day- to-day escalations with Client's background screening vendor.• Mentors the HR Compliance Associate and HR Compliance Specialist.
Required Education: Bachelors
Required Experience: At least 6 years of experience in broad-based human resources or regulatory compliance.
Epic ADT/Prelude Consultant
Location: California
Industry: Healthcare IT Consulting
Job Description: Apply Here.
This position will be primarily responsible for implementing and supporting Information Technology applications with minimal supervision, specifically those related to the Epic Grand Central, Cadence Prelude systems, which manage inpatient, emergency and outpatient visits for the hospitals and the physician practices; Epic Prelude, which provides patient registration, address verification, and HIPAA-compliant eligibility tools to ensure accurate billing; and Epic Cadence, a patient scheduling application.
Infor/Lawson Experts
Location: East Coast
Industry: IT Consulting
Job Description: Apply Here.
We still have some available positions for all you experienced Infor/Lawson consultants out there. Some of these positions are full-time, so it's a great chance for you to land the ideal job on the Eastern seaboard! If you are an Infor or Lawson professional consultant, reach out to us to get more information about the opportunities we have left!
Other Needs
If none of the above consulting jobs fit your skillset, we're also looking for the following positions: Any certified Epic consultant, a Senior Developer, and a Desktop Support Analyst, as well as several Cerner consultants.
To apply to any of these positions, click here. Remember to subscribe to the blog to stay up-to-date on our exciting opportunities. To find out more information about any of these opportunities, leave a reply on this blog post or send an email to kschulte@virtelligence.com. Have a great day! 
Virtelligence a National Healthcare IT consulting firm that offers Healthcare IT consulting services in the US and abroad.. Virtelligence has been awarded INC5000 – INC Magazine's fastest growing companies , "Great Places to Work" by Minneapolis – St. Paul Business Journal and HCI-100, Top 100 Healthcare IT Companies in USA in by Healthcare Informatics Magazine. Recognized nationwide for generating possibilities and creating solutions, Virtelligence welcomes you to become part of our growing team.