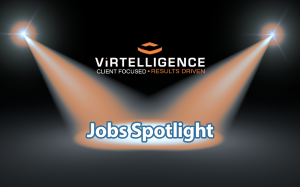 Happy Tuesday! We're now in the first full week of December. Are you excited to usher in 2017, or do you wish 2016 would last just a little bit longer? Either way, we hope we can help bring some joy to your month by connecting you with a few of our open contract opportunities! As always, if you're interested, don't hesitate to reach out. Without further ado, here's this edition of our Weekly Jobs Spotlight. Click on the job title to apply.
Epic Willow/Beaker Instructional Designer (ID)
Location: Midwest
Industry: Healthcare IT Consulting
Job Description:
Instructional Designer (ID) is responsible for the designing, building and delivering training programs to a variety of audiences including trainers, super users and end users. Each Instructional Designer has primary accountability for specific applications in addition to other training projects. If a certification is required for an application or area that the Instructional Designer is assigned or is responsible for, he/she must obtain that certification within six weeks of hire or of taking on the new responsibility.
1. Researches, evaluates, selects and modifies training curriculum, content, materials, job aids, etc. to meet learning needs of each audience. Provides appropriate recommendations for curriculum flow, design, time estimates, resources, tools and assessments. Applies technical expertise to develop, design and maintain training materials and assessments in accordance with the internal style guide, focusing on assigned applications and projects.
2. Builds and maintains electronic training and courses including computer-based training (CBTs), videos and mobile learning modules, as necessary.
3. Builds, tests and maintains the training. Rebuilds the training environment according to Epic's project timelines and revamps the curricula for environment changes, optimization, upgrades, updates and ongoing training needs.
4. Designs and delivers training programs including but not limited to train-the-trainer sessions and end-user programs. Evaluates program effectiveness, recommends and implements program improvements as necessary. Identifies and addresses where training needs involve other program/application components.
5. Helps to develop trainer and end-user competency standards, methods for assessing competency and remediation plans for computerized training program solutions.
6. Ensures all new training programs utilize the current automated tools for record keeping, compliance reporting and web-based registration. Develops on-line user guides, training materials and other training tools. Keeps current with new technology and methods for training. Implements new technologies as they become available to promote better adult learning and retention.
7. Coordinates daily operations of the training rooms. Ensures maintenance of technology and scheduling/enrollment processes. Provides and oversees user support to new training room users. Promotes an ergonomically safe training and work environment as related to computers and computer equipment.
8. Conducts quality assurance, including the audit of staff activity within the assigned applications/systems to ensure proper adoption and best practices. Develops and evaluates training reports to improve processes and publish data.
9. Adheres to all Clients' standards, policies and procedures.
Qualifications:
1. Bachelor's degree in a healthcare related field, information systems or training or the equivalent amount of relevant professional experience required.
2. Epic certification in one or more applications. Completion of additional application-specific Epic certification(s) and coursework as required. Beaker and/or Willow certification is preferred.
3. Three years of instructional design and training experience required.
4. Two years of relevant experience in a healthcare environment required. Five years of experience preferred.
5. Experience with Microsoft Office required. Experience with Microsoft SharePoint and Visio preferred. 6. Experience with Articulate Storyline or eLearning software preferred.
7. Experience with Learning Management System (LMS) administration preferred.
8. Demonstrated understanding of the end-user community in the assigned field.
9. Must complete all assigned Epic training sessions and complete Epic certification within six weeks of hire or new responsibility or upon training completion. Failure to certify successfully will disqualify candidate from the team.
10. Strong interpersonal communication skills and experience necessary to work effectively with all types of stakeholders.
11. Project management, organizational and decision-making skills necessary to balance multiple priorities and complete projects with little or no supervision.
12. The presentation skills necessary to provide training to audiences of all levels. Expertise in Microsoft Office software, distance learning theory, and computer-mediated training software.
13. A solid understanding of adult learning theory, human cognition and effective instructional design principles in a variety of educational settings, such as traditional classroom, self-directed study, web-based and computer-mediated environments.
14. The training/analytical ability necessary to assess audience needs while delivering a training program and to make impromptu modifications to best meet those needs; to translate and communicate complex, technical information to audiences of all levels.
15. The ability to handle difficult learners and situations in a professional and courteous manner.
16. The collaborative skills necessary to function effectively in a team environment
17. The ability to adapt and adjust to last minute schedule or environmental changes.
Location: Minnesota
Industry: Healthcare IT Consulting
Job Description:
The ideal Epic Testing Analyst will be locally based, however Epic consultants who require travel will still be considered for this opportunity.
The consultant will be responsible for functional testing for Epic modules, which may include Epic Clindoc, Epic Cupid, Epic Radiant, and Patient Movement. Experience in other Epic applications is desired. The client has a preference for consultants who have experience in MTM or TSS, but it is not required.
Epic OpTime Anesthesia Analyst
Location: New York
Industry: Healthcare IT Consulting
Job Description:
Our New York Client is looking for an Epic OpTime Anesthesia Analyst for a potential full-time role in their organization. The ideal consultant will have multiple years of experience as an OpTime Anesthesia Analyst. Epic certification is a must. Experience in other Epic modules is preferred, but not required.
Location: Minnesota
Industry: Healthcare IT Consulting
Job Description:
Our Minnesota-based client is in need of an Epic Cupid Principal Trainer
The ideal Epic Cupid Principal Trainer consultant will:
Possess an Epic Cupid Certification. This is mandatory.
Have at least one full cycle implementation expereienec as a Principal Trainer, required.
Proficient in MST and patient build.
Additional Epic certifications is preferred, as is previous experience with Epic upgrades.
Other Needs
If none of the above consulting jobs fit your skillset, we're also looking for the following positions: Any certified Epic consultant, a technical implementation specialist, a change coordinator, a Sunquest Lab Analyst, and a Project Manager II, as well as several Cerner consultants. 
To apply to any of these positions, click here. Remember to subscribe to the blog to stay up-to-date on our exciting opportunities. To find out more information about any of these opportunities, leave a reply on this blog post or send an email to kschulte@virtelligence.com. Have a great day!