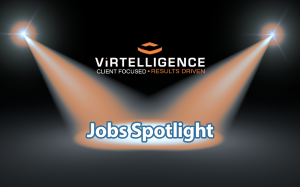 Happy Thursday! Local (to us, that is) is the theme of the day, as we have three incredible opportunities all within the Hockey State. Minnesota IT and MN Healthcare IT are the prominent focus of today's IT Jobs Spotlight, but if you're looking for contract opportunities in other parts of the country, scroll to the bottom!
Location: Minnesota
Industry: IT Consulting
Job Description:
This job support the users of microcomputing technology, virtual desktop computers and virtually published applications. The ideal candidate is an excellent communicator with hands on experience supporting latest virtualization products, specifically VMware ESX, VMware Horizon View and VDI. Secondary requirements include experience with Citrix Xendesktop, Citrix XenApp, Citrix Provisioning Server App-V.
Main Responsibilities:
1) Provide escalation support to global teams as well as day to day Monitering/Alerting, Break-Fix Support, Health Checks, Ticket escalations and change management across global sites.
2) Support Network infrastructure by diagnosing and fixing software configuration problems using general skills and a knowledge of standard Client configurations.
3) Install, test and document new software products and recommends their adoption as standards.
4) Leads small to medium sized projects in the client/server/microcomputing arena.
5) Ensure that Client's systems and the information on them are protected in accordance with Clients Information Protection Policies and Standards, as well as best Information Protection practices.
Basic Qualifications:
1) Bachelor's Degree OR 8 years of work experience in lieu of a 4 year degree or a combination of work and education to equal a 4 year degree
Years of Experience:
3-5 years of IT experience with a B.A. or B.S.; 0-3 years of IT experience with M.A. or M.S.
Specialized Knowledge Required:
1) Monitor Infrastructure and assist maintaining High Availability and Operational efficiency.
2) Provide Break-Fix Citrix support and Ticket Escalation resolution.
3) Apply upgrades and service packs to Citrix software and Business application as directed by VUC management and work through any technical issues that arise in the process.
4) Analyze incident requests, diagnose, and determine next course of action to assist end users to drive resolutions.
5) Effectively troubleshoot various latency, bottlenecks, and other performance-based problems within Citrix Architecture.
6) Adhere to appropriate IT policies, including obtaining appropriate approvals for management.
7) Share critical information with peers to ensure that documentation and processes are current and accurate.
8) Use exemplary time-management skills; work within strict time-frames to meet or improve deadlines.
9) Capable of working independently or in a team collaborative environment with diverse individuals.
10) Maintain a flexible working style; assist with special projects and other duties as assigned.
11) Use excellent verbal and written communication skills at all levels.
12) Well-versed in supporting Citrix XenApp, Citrix XenDesktop,Citrix PVS, Citrix Web Interface, Citrix StoreFront, Citrix Director, and Citrix PVS.
13) Strong Background in Vmware Horizon View and RDSH (knowledge in Orchestrator and vIDM a plus)
14) Strong Foundation in the WIndows OS troubleshooting (7, 8, 2008 R2, and 2012 R2)
Desired/preferred Qualifications:
1) ability to translate customer requirements into recommendations that fit needs
2) good diagnostic skills
3) communication skills consistent with constant customer contact and ability to understand customer requirements
Package Administrator (OSD Developer)
Location: Minnesota
Industry: IT Consulting
Job Description:
1. Someone with SME (subject matter expert) level knowledge of desktop Operating System Deployment processes, Image Development, configuration and use of MDT, SCCM OSD, USMT, design and administration of Microsoft SCCM (all versions) in an enterprise, and SCCM based reporting.
2. Candidate should be familiar with proven expertise in all areas of Managed Desktop Services, see above, along wtih Level 3 and 4 Support, and the ability to provide consulting advisory and technical delivery services for special projects related to these services.
3. Project work around developing images for a Windows 10 and Office 365 migration.
Responsibilities:
1. Develop user facing automation processes called from OSD task sequence
2. Leverage scripts for automation of processes
Specialized Knowledge Required Required:
1. Deep knowledge of all aspects of MDT and SCCM OSD processes
2. Experience with operating system refresh, include data migration
3. Strong knowledge of both PowerShell and vbscript
Top Technical skill to look for:
1. MS SCCM OSD-Image Development and Deployment
2. MS Deployment Toolkit (MDT)- Image Development and Deployment
3. Windows Operating System Deployment
4. User State Migration Tool, (USMT)
5. Desktop related Group Policy Objects (GPO)
6. Scripting with Powershell and VBScript
7. MS SCCM 2012-Design, Confirguration, Administration
8. Software Distribution
9. Patch Management
Epic Kaleidoscope Principal Trainer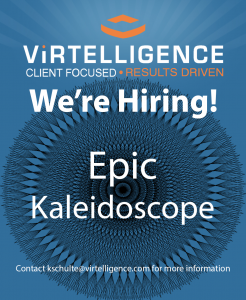 Location: Minnesota
Industry: Healthcare IT Consulting
Job Description:
This job role is responsible for training for Orthopedics and Kaleidoscope (Ophthalmalogy) with one of our Healthcare IT clients. It is an onsite role.Qualifications:
Ambulatory certification (2015 NVT)
Orthopedics and/or Kaleidoscope Certifications (2015 NVT)
Wisdom (Dentistry) certification a plus
At least one full cycle implementation as a Principal Trainer required
Experience with Epic upgrades a plus
Proficient in MST and patient build
If none of the above consulting jobs fit your skillset, we're also looking for the following positions: Epic Project Manager, Epic Cogito Clarity Reporting Manager, Epic HB Analyst, Project Coordinator I, Cerner Consulting (Cerner Programmer; Cerner Clinical Applications), and two (2!) .Net Architects/Developers.
Remember to subscribe to the blog to stay up-to-date on our exciting opportunities. To find out more information about any of these opportunities, leave a reply on this blog post or send an email to kschulte@virtelligence.com. Have a great day!