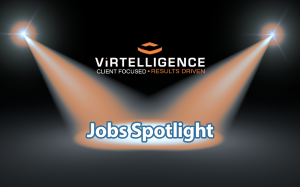 Happy Tuesday! Here's hoping your week started off smoothly yesterday. Today we have multiple Epic consulting opportunities, as well as a few IT consulting opportunities. Be sure to subscribe to our blog to stay up to date on any upcoming EHR or IT consulting positions we have available.
Project Manager III
Location: East Coast
Industry: Healthcare IT Consulting
Job Description:
Our East Coast client is seeking a Project Manager Level III for upcoming advanced level projects.
Requirements:
1. Creates, coordinates, and manages advanced level projects involving organization-wide systems.
2. Exhibits advanced proficiency in project management methodology, tools and practices.
3. Demonstrates proficiency in creating detailed documentation for complex projects.
4. Communicates effectively with project staff and stakeholders.
5. Demonstrates effective consensus-building skills.
6. Demonstrates ability to manage advanced level projects and to coach other team members.
7. Manages 8 to 15 project staff members.
Required Licenses/certificates/registrations
1. PMI member in good standing.
2. PMP certified.Required Education and Experience1. A bachelor's degree in Business, Healthcare IT or related field required.  2. 8 to 15 years solid experience as a project manager in IT project management with increasing responsibilities.
3. Master's degree desired.
Epic Project Manager
Location: Midwest
Industry: Healthcare IT Consulting
Job Description:We have a healthcare client in the midwest in need of an Epic Project Manager.
Required:
Minimum requirement of Bachelor Degree in Computer Science, Business Administration, Healthcare Management or related field.
Minimum 5-7 years experience in healthcare operations and/or information systems.
Cumulative of 5 years of leadership and/or project management experience.
Experience working on and/or managing EMR projects in inpatient and ambulatory care environments. Demonstrated capability to manage projects with budgets.
Demonstrated project management skills.
Demonstrated process/workflow reengineering skills.
Excellent oral and communication skills.
Demonstrated ability to effectively establish and maintain working relationships with peers and constituents at all levels of the organization.
Demonstrated analysis and problem solving skills.
Demonstrated leadership capabilities.
Experience working with and negotiating with external vendors.
Desired:
Masters in related field preferred.
Planning and implementation of Epic EMR applications, including Ambulatory, Access, and Revenue Cycle in both outpatient and inpatient settings.
Remote Senior Business Analysis Consultant
Location: Midwest (Remote)
Industry: Business Analyst Consulting
Job Description:
This job role is responsible for designing/developing, programming, maintaining and publishing operational reports. This job role provides operational analysis utilized for decision making. May make recommendations based on the analysis and provided explanations for reporting results as needed. Assist other analysts in automating reporting processes.
Qualifications:
BA/BS in MIS, Statistics, Mathematics, Computer Science, Business or related filed preferred Minimum of 3 years of experience performing significant data analysis and report development Intermediate level of programming knowledge (reporting code) and of relations databases, database structures and design, system design, data management, data warehouse.
Intermediate level of proficiency in Microsoft Excel, Access and PowerPoint Intermediate level of proficient in Microsoft SQL Server Reporting Service (SSRS), Microsoft SQL Server 2008 R2 or higher, TSQL query development and Microsoft Visual Studio 2008 or higher.
Preferred Qualifications:
Microsoft SQL Server Integration Services (SSIS) experience.
Customer service skills – ability to connect with business customer
Communication skills – able to translate business requirements into technical requirement/coding
Epic Stork Build Analyst Consultant
Location: Ohio
Industry: Healthcare IT Consulting
Job Description:
We are seeking an Epic certified Stork consultant for our client based out of Ohio. Epic Stork certification is required. The ideal candidate would have experience across Epic Applications, but the candidate is not required to be certified in any other Epic Application besides the Epic Stork certification.
This is a 9 month engagement with the possibility of extension.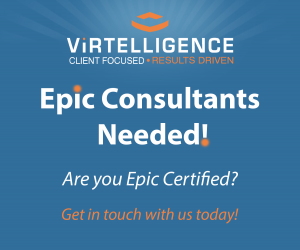 Other Needs
If none of the above consulting jobs fit your skillset, we're also looking for the following positions: Epic Orders/ClinDoc Analyst, Senior Developer, Digimax Tech Suppor, eLearning/eDemo Developer, and an Epic Willow Analyst.
Remember to subscribe to the blog to stay up-to-date on our exciting opportunities. To find out more information about any of these opportunities, leave a reply on this blog post or send an email to kschulte@virtelligence.com.
Have a great day!