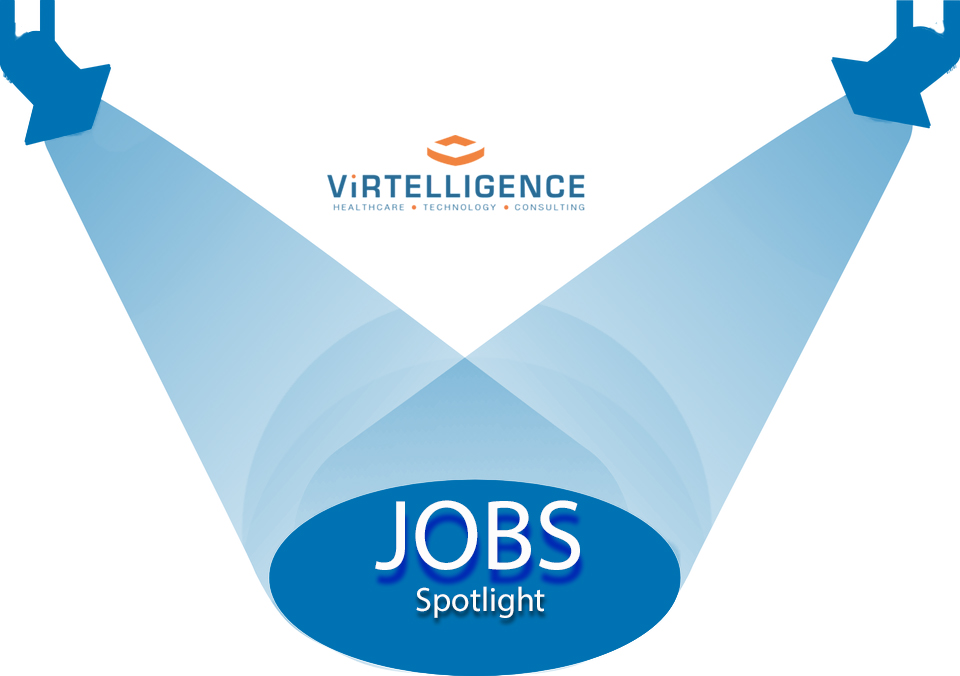 Epic Tapestry (Remote)
Location: Remote
Industry: Healthcare IT
Candidate will be responsible for making system configuration changes in the client's Epic application.
Essential Functions:
Responsible for achieving in-depth knowledge of client's application software and business operations to ensure that the application is configured to support business requirements.

Configures EPIC applications by translating business requirements into software specifications.

Acts as a liaison between client's various departments regarding configuration issues.

Executes test plans for configuration testing; performs problem resolution of configuration.

Performs in-depth analyses of workflows, data collections, report details, and other technical issues associated with the use of client's software.

Develops and documents internal decisions that the form the basis for the design decisions within the client's software applications.

Collaborates with process design, interfaces, testing and implementation teams.

Conducts comprehensive evaluations and tests new releases.

Prioritizes and implements system updates and changes; communicates changes to users prior to granting access to new releases.

Performs other duties as directed.
Three (3) years of configuration, application implementation, detail analysis, and installation experience required or three years of progressively responsible experience performing detailed analysis and in-depth knowledge of healthcare information management systems required.

EPIC Certification.

Database management and basic software configuration skills.
PLEASE NOTE: This CANNOT be a newly certified candidate…they must have worked the 3 years post certification.
Preferred Experience:
Experience within the Healthcare Industry.

Expertise in data structures, content and interpretation of specific data elements.
Required Education:
Bachelor's Degree in Computer Science, Healthcare, and or Business.
Skills to be successful in this role:
Strong detailed analytical thinking, problem solving and results oriented skills.

Excellent project management skills.

Manage multiple project across company.

Ability to drive projects. Issue resolution and management.

Ability to integrate.

Effective communicator.
Desktop/Device Support II
Location: California
Industry: Information Technology
Assists with providing problem resolution, analysis, specifications and configurations, coordination, testing, and installation of computer/mobile device based software, peripherals, local area networks (LAN) and other peripheral equipment.  May assist with informal training of computer/mobile device users.  Assists in the maintenance of asset control and adherence to departmental / system policy directives and maintains the highest level of data security.
Troubleshooting
Provides first level problem resolution for enterprise/system-wide computer/mobile device hardware, operating system software, application programs, peripheral equipment, and LAN interfaces.

Within general guidelines, manages priorities based upon severity, workflow, and time constraints.

Applies system expertise, skills, and knowledge effectively in solving desktop workstation and personal computer, associated equipment, and network connectivity technical problems throughout the client's user community.

Works with other Desktop Support staff, Network Engineers, and system/program application personnel to resolve technical issues as required.

Works with other IS team members to provide timely support services to the user and receive, log-in, document, and close-out trouble calls using the service tracking tool(s).

Coordinates tasks and activities with other departments/sections and vendors as appropriate or directed.

Formulates service support efforts based on customer schedule needs.

Maintains courteous rapport and friendly customer relations; communicates with users at their level of understanding.

Maintains confidentiality of all data per the client's policies.
Hardware
Assists with analyzing, defining specifications, configuring, coordinating, installing, repairing and testing computer/mobile devices, peripheral equipment (including but not limited to: projectors, scanners, and other multimedia equipment) and LAN interfaces.

Assists with analyzing and defining specifications for user computer/mobile device requirements.

Configures and installs new hardware and upgrades to existing user system components.

Ensures proper configuration and performance of installed computer/mobile devices.

Coordinates installation of computer/mobile devices and peripherals with vendors.

Assists with the accuracy and integrity of the asset control process.
Software
Performs installation of approved software on computer/mobile devices, following the standard procedures.

Coordinates installation of computer/mobile device software with customers.

Configures and installs software upgrades/fixes or patches.
System Maintenance
Assists with evaluation, analysis and maintenance of computer/mobile devices to meet client's enterprise technical and security standards.

Under direction and supervision, maintains the proper updates and OS patch configurations.
Epic Project Manager
Location: Midwest
Industry: Healthcare IT
The Senior Project Manager is responsible for all aspects of the delivery of complex, large sized projects or similar sized programs of projects.
Duties include:
Leading and managing the initiating, planning, executing, monitoring, controlling and closing of such transformational, enterprise-wide projects.

The position is responsible for ensuring that projects are completed to meet the scope, schedule and budget expectations of the project sponsors.

Project Delivery Responsibility

Project Methods Expertise

Project Initiation

Project Planning

Project Execution

Project Monitoring & Control

Project Closure

Project Metrics Realization

Project Staff Performance Input
This position will focus on projects/programs that focus on EPIC UEHR Health Record. Such work could be enhancements, new clinic implementations, and new modules. Experience in this area is a requirement.
Experience:
Hospitals

HODs

Ambulatory

Specialty Departments

New Clinics ideal

Epic certification preferred

Demonstrated leadership and team-building

Experience leading Epic integrated implementations in a complex environment

Experience coordinating work and schedules with other projects within a program and with clients teams (Operations and IT) outside the program

Excellent communication skills

Demonstrated decision-making and delegation abilities

Effectively establishes and maintains working relationships at all levels

Flexibility and diplomacy
Epic Application Analyst – PB
Location: Western U.S.
Industry: Healthcare IT
JOB SUMMARY: Under minimal direction, formulates and defines system scope and objectives. Devises or modifies procedures to solve complex problems considering software application limitations, operating time, and form of desired results. Competent to work at the highest technical level of all phases of applications systems analysis and programming activities. Includes analysis and documentation of requirements, gaps, issues, risks, and enhancements. Works in some phases of systems analysis and considers the business implications of the application of technology to the current business environment. Performs a variety of tasks to support the customers and management. Prepares detailed specifications from which programs will be written. Designs, codes, tests, debug, and documents those programs. Provides ad hoc reports and scheduled reports as requested. Responsible for quality assurance review. Responsible for directing and monitoring the work of team members.
MINIMUM QUALIFICATIONS:
Education:
Associates Degree or higher Degree in Computer Science, Information Systems, Business or Healthcare Related field or an equivalent combination of education and experience.
Experience:
Typically, five (5) or more years of experience in Healthcare Information Systems or a related field. Applicable programming or application support experience preferred.

Epic certification a plus.
Knowledge, Skills & Abilities:
Understands software and hardware requirements of varied departmental systems.

Understands the workflow and process requirements of complex application systems.

Demonstrated ability to be the subject matter expert in supporting, maintaining and administering complex applications.

Mentors less-experienced analysts and teams on application systems to help build knowledge, skill and ability.

Full technical knowledge of all phases of applications systems analysis and programming.

Understands business function related to the application.

Advanced ability to communicate with both technical and non-technical employees across the enterprise.

Demonstrated ability to communicate and intervene appropriately with vendor or departmental personnel when required or requested to help resolve issues.

Intermediate skills in Microsoft office suite

Excellent verbal and written communication/presentation skills.

Exceptional organizational skills with ability to handle multiple projects, multiple (and sometimes conflicting) priorities and adapt to change.
Certificate/License/Registration:
Epic certification required. If not pre-certified, then certification required one year post hire date.

All Certifications and Licenses required for this job must be kept current as a condition of continued employment.
ESSENTIAL DUTIES & RESPONSIBILITIES: List each job duty and responsibility that is essential to performing the job successfully, efficiently and safely.
50% ANALYSIS AND PROBLEM SOLVING
Evaluates feasibility, cost and required time to complete customer requests.

Epic Application Project Coordinator
Location: East Coast
Industry: Healthcare IT
6+ months, or 3 months contract to hire
EMR-16-00945
Epic Applications Program Coordinator
Epic Certification NOT required
Principal Duties and Responsibilities:
Coordinating and planning logistics for Epic Program

Writing and standardizing department policy and procedures

Streamlining Departmental processes

Help prepare and plan for meetings

Organization of department and the Epic Program

Communications and Departmental Support

Expert in Microsoft Suite Tools

Excel

Visio

Outlook

PowerPoint

Responsible for supporting the Sr AVP for Epic Program to write and standardize the policy and procedures to standardize and streamline processes

Works on projects and help prioritize areas of optimization for department efficiencies

Develop agenda, track action items, issues/risks, and follow-up to ensure closure

Provide support to the Epic program to ensure organized process and centralized placeholder

Help with development and providing communication plans, templates, and execute communication standards for Epic Program

Serves as point of contact to help organize and collate approvals for the Epic Program
Qualifications / Required Skill:
Experience – 3-5 years supporting a large department and program

Expert in Microsoft Suite Tools

Bachelor's Degree in Communications or equivalent

Have strong organizational and communication skills